Jun 24/2021
TalentCards named Best Training App of 2021, Expert's Choice, and more
With over 25,000 users spanning six continents, TalentCards is making an impact on mobile learners all over the world. Freeing frontline employees from the burden of desk-bound training, the mobile learning platform continues to be recognized as a top solution by experts, users, machine learning algorithms, and more.
TalentCards awarded 3 top badges from Finances Online
Finances Online is the leading business software and research directory used by over 2.5 million people every month to source solutions for employee training, team management, business analysis, and more. Based on the directory's evaluation criteria TalentCards has been awarded the Supreme Software, Expert's Choice, and User Experience badges for 2021. TalentCards has an overall rating of 8.6, and an impressive 100% user satisfaction score.
eLearning Industry names TalentCards #1 microlearning LMS
eLearning Industry is one of the world's leading publishing platforms on all things concerning online learning, with a mission to build a fully democratized digital network of information. In an attempt to match L&D professionals, business owners, and everyone in between with software that's a perfect fit for their needs, eLearning industry creates top lists featuring exceptional products. In 2021 TalentCards landed the number one position as the Top Microlearning LMS on the market.
Users name TalentCards Best Training App of 2021
Digital.com takes a different approach to reviewing software, with the small business owner front of mind. The site doesn't rely on editorial opinions or user-submitted ratings to evaluate software. Instead, they establish ratings based on genuine user comments that reveal the true positive and negative qualities of a product. Based on these criteria, TalentCards has been named one of the Best Training Apps of 2021, with notable mention of its ability to deliver microlearning content to people anywhere.
Crozdesk names TalentCards Quality Choice
Crozdesk is a business software discovery platform that helps buyers find and compare thousands of products. Through the use of AI and machine learning ranking algorithms, the site creates unbiased ratings and recommendations for its users. These algorithms, along with analyst-grade reports, expert reviews, and user recommendations awarded TalentCards with the Trusted Vendor Award, and the Quality Choice Award. 
SelectSoftware ranks TalentCards a Top Free LMS
SelectSoftware Reviews is an employee-owned company that is dedicated to providing unbiased, expert-based reviews that help buyers make informed decisions. The site has named TalentCards a Top Free Learning Management System, highlighting that it's one of the few platforms available on the market that has been designed specifically for deskless and frontline workers. SelectSoftware recommends TalentCards for businesses of all sizes, with special emphasis on those with labor forces consisting of mobile workers in need of training they can take with them on the go.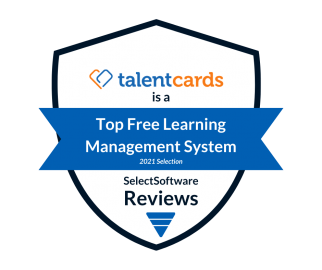 About TalentCards
TalentCards is a mobile-first microlearning tool for your deskless workforce. No other training tool puts learning in front of your people as fast as TalentCards does. With a specially-designed Card Editor, it's finally easy to put microlearning into action. And with an intuitive smartphone app, training is available and accessible anytime, anywhere. Ideal for safety and  security training, product training, and reinforcement training, TalentCards brings training directly to your workforce. And, in as little as 5 minutes a day, workers learn, reinforce and apply the knowledge that's critical to your business.
Learn more at www.talentcards.com
About Epignosis LLC
Epignosis is a leading software house in learning tech and trusted by over 70,000 teams worldwide. Its portfolio includes TalentLMS, a zero-overhead cloud LMS, eFront, an enterprise learning management platform, and TalentCards, a mobile app for training the deskless workforce. The company is paving the way for the democratization of training by developing premium eLearning tools that help teams reach their full potential.